Did you know that in 2018 over 3.5 billion searches happened everyday on Google?
That's more than 40,000 searches every second.
Those are potential customers searching for businesses like you! Customers who are in a moment of need and searching for your product, your service.
Will these customers find you? Will they choose your website or your listing over the competition? How do you stand-out and differentiate yourself online?
With many businesses ditching the radio or billboard ads for a piece of the online market
– how will you make your ads standout and convert those customers.
Pictures of your work,
an intriguing caption, special promotion – all great ideas!
But what if there was way to draw attention to your ad, draw attention to your business, boost your SEO, capture customer's eye, encourage customer loyalty, and gain valuable customer feedback? Would you be interested?
Out with the old way of advertising and in with the new.
And that doesn't just mean from paper to online, we also mean the strategy.
Previously advertising was about pushing your product onto customers – preaching about the benefits you offer, tooting your own horn about how great you are.
Sounds pretty awful right?
Customers saw through that and those ads became white noise. They want validation and trust that you deliver on these promises.
Cue the rise of social media and influencers…
You're a small business, you don't have the market or need for pay an influencer to post to Instagram – you have your own access to influencers for free!
Your happy and satisfied customers can act as free cheerleaders for your work and business. Their public
reviews
draw attention to your business and make your listing pop compared to your competition. Take a look at the businesses below – who would you call?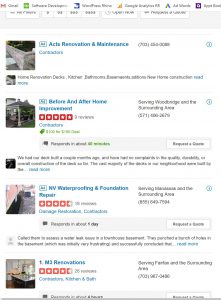 Despite their ad being first, with 0 customer reviews Acts Renovations and Maintenance wouldn't be the first call.
Stop pushing your business onto customers through Ads and start pulling them in with your raving
customer reviews.
Reviews have been shown to help:
Attract new customers
Increase engagement with customer base
Influence potential customers
All great things that every business wants!
You created a website,
you claimed your listings
, you advertise online – you're a smart business person who knows a solid reputation and online presence is important.
So finish the process and
growing your reviews today!